There is something about a shotcrete pool that one must see to understand. Not only is it a body of water to exercise and cool off in, it is also "yard art". Knowing that you will spend more time around your pool entertaining with family and friends, the aesthetics of this water feature are crucial.
There are essentially no limitations when it comes to shotcrete pools: they provide unparalleled levels of design flexibility and aesthetic quality. In addition to choosing your preferred size and shape, you can customize your shotcrete pool with various colors and finishing materials, as well as add-ons ranging from waterfalls and attached spas to in-pool seating areas.
But what is Shotcrete and Gunite?
---
According to www.shotcrete.org, the term "gunite pools" has been used for decades in the swimming pool industry and is commonly used to describe a pool using shotcrete placement, whether it is the wet-mix process or the dry-mix process. Gunite and shotcrete are not materials, but rather are placement methods for pneumatically placing (shooting) concrete materials at high velocity. In the history of shotcrete, the term "Gunite" was a tradename used for the dry sand+cement mixture pneumatically shot from the Cement Gun Company's equipment and hydrated at the nozzle. When ACI started writing standards for pneumatically placed mortar in 1951, it adopted the term "shotcrete," as proprietary trade names were frowned upon in technical standards. When reliable concrete pumping equipment allowed pneumatic placement of ready mixed concrete, the terminology was modified to include "wet-mix shotcrete," while the original dry process became termed "dry-mix shotcrete." Many companies still use the original term "gunite" to refer to dry-mix shotcrete. Thus, the term "shotcrete" can really be applied to either the dry-mix or wet-mix process.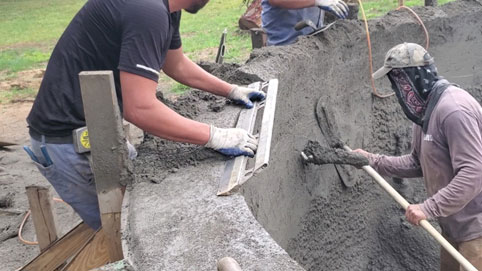 However, with two shotcrete processes, which one is the best for swimming pool construction? The short answer is that both processes work exceptionally well when correctly placed with a well-trained crew using the proper materials, equipment, and placement techniques employed by experienced shotcrete companies.
A swimming pool is a lifelong investment, so make sure you have any questions you have answered before beginning your pool project.
Are you ready to turn your vision into reality? Contact our design team today.